Everyday Carry
What's in your pockets right now?
What's in your pockets right now?
Maybe you have a bag with you, what's in there?
You may not have given too much thought to the things you carry around every day, but there is a term dedicated to the concept: "everyday carry", or EDC.
Wikipedia defines everyday carry better than I ever could (selections edited):
Everyday carry refers to a small collection of tools, equipment and supplies that are carried on a daily basis to assist in tackling situations ranging from the mundane to the disastrous.

The term EDC also refers to the philosophy or spirit of "preparedness" that goes along with the selection and carrying of these items. Implicit in the term is the sense that an EDC is an individual's personal selection of equipment, arrived at after deliberation, rather than a standardized kit.

EDC items normally fit in pockets or a small pack, and/or are attached to clothing such as a belt. Emphasis is placed on the usefulness, accessibility and reliability of these items.
EDC is a hobby of sorts, so it shouldn't be surprising that there are many blogs and even entire communities dedicated to the concept.
I've always loved gadgets of all kinds, and thus gave lots of thought to my EDC long before I first heard the term.
Before reading any further, you should know that I don't consider myself to be an expert in any of the topics I'm going to mention, just someone who is enthusiastic about EDC and who has done a fair bit of research. It's possible that there could be inaccuracies in what I've written here; if you notice any, please tell me! My hope in writing this is to get you to think about your EDC and to offer some examples and resources along the way.
Why Care About Everyday Carry?
My mentality has a lot to do with what Dustin Curtis refers to as "The Best". Here are some relevant excerpts:
"The best" isn't necessarily a product or thing. It's the reward for winning the battle fought between patience, obsession, and desire. It takes an unreasonably long amount of time to find the best of something. It requires that you know everything about a product's market, manufacture, and design, and that you can navigate deceptive pricing and marketing. It requires that you find the best thing for yourself, which means you need to know what actually matters to you.

If you're an unreasonable person, trust me: the time it takes to find the best of something is completely worth it. It's better to have a few fantastic things designed for you than to have many untrustworthy things poorly designed to please everyone. The result—being able to blindly trust the things you own—is intensely liberating.
From an EDC perspective, "the best" doesn't necessarily mean "the most expensive" or "the flashiest". To me, it means that each individual item in a person's EDC is the ideal realization of that item for that person. It also means that all of the items in a person's EDC should cohesively complement each other as the best possible EDC for that person. It means that the things a person carries with them every day should deserve to be carried every day.
For example, if you carry a wallet, is your wallet really "the best" wallet for you? Is it a George Costanza wallet that just needs to be cleaned out? Or maybe your wallet is bursting at the seams with plastic cards, and carrying a separate cardholder would make more sense? As another example, maybe finding your keys when you get home always ends up being an adventure in your bag, and then you end up fumbling with them in the dark? Could a better keychain and a small flashlight remove that small amount of frustration from your everyday life?
I am obsessed with removing frustrations like these, and that's why I care about finding "the best" EDC for myself. I try to keep my EDC as minimal as possible while still being functional. Being the gadget lover that I am, I also enjoy taking the time to put some thought and research into everything I carry.
All of that said, there's no such thing as the "perfect EDC". A person's EDC will naturally change and evolve over time to meet their needs, always working towards "the best" EDC for them. What's more, one person's ideal EDC certainly isn't going to be ideal for everyone. If you work in an office like I do, your EDC is probably going to look very different than that of someone who, for example, works on oil rigs.
My Everyday Carry
Seeing others' EDC is both informative and fascinating, not only because you can draw inspiration for your own EDC, but also because it's interesting to see the stories that people's possessions tell about them.
To that end, I'll go through my own current EDC in detail and explain some of the thinking behind it. Even so, my EDC is always changing and evolving over time. While I certainly carry different things or sets of things depending on the situation (for example, I bring a laptop messenger bag to work), I consider my "EDC proper" to be the things I carry almost all of the time, regardless of the situation or context.
Without any further ado, here's what it looks like: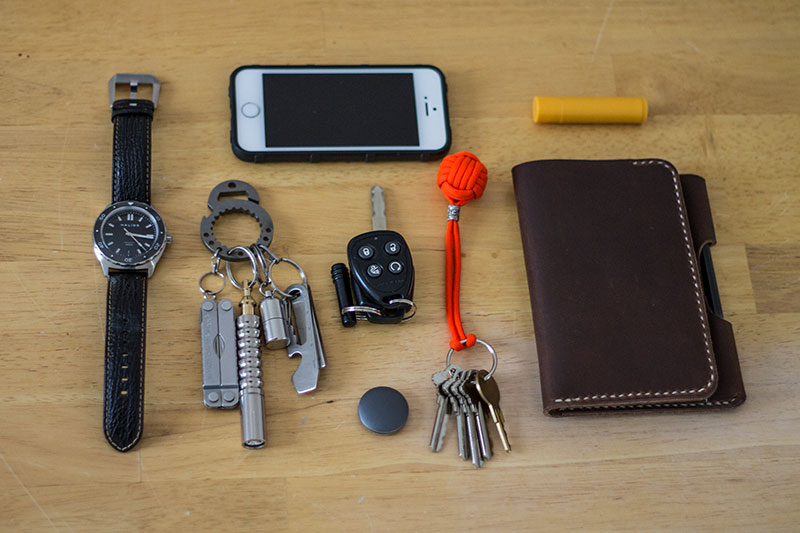 So, what is all that stuff?
Wallet
I'm not a fan of money clips, so I carry a wallet. My wallet is a Park Sloper Senior from One Star Leather Goods. I carry a few cards including credit/debit cards, insurance cards, and my driver's license. I also like carrying paper money if I happen to need it, but I avoid carrying coins. One Star Leather Goods is a one-man operation running out of Los Angeles, CA. This is what appears on their Etsy people page:
"Buy good things, own them for a long time."

That napkin wisdom is borrowed from the internets and it's message is the basis of my philosophy. Today's "buy it cheap then throw it away" consumer environment is unsustainable and largely irresponsible. Do your research, find something that suits your needs and is well made, pay a fair price for it and be rewarded by years of happy use. Support your local independent craftsman over a big box retailer and search out unique and well made items.

While I believe that "the best things in life aren't things," the things that you do need should be pleasurable to use and pleasurable to look at: simple, functional, durable and beautiful. I have a somewhat obsessive desire for perfection and put a high value on items that are designed and executed to the highest standards…
Sound familiar?
I love the Park Sloper Senior because it looks classy, it's an extremely high quality handmade piece, and it holds my cash and cards while also accommodating a notebook and pen, all without being too bulky. Its larger size makes it strictly a "jeans back pocket" wallet, which isn't for everyone, but One Star does make a smaller, front-pocket-friendly version of the Park Sloper. I like carrying a notebook and pen in order to use the Bullet Journal system, which I've found works well for me—better than any productivity-related iPhone app I've tried. I use a Field Notes 48-page notebook and a Uni-Ball Style Fit pen with a 0.7mm Jetstream refill. Sometimes, I also carry a 0.7mm Uni-Ball Jetstream RT pen. The Park Sloper easily accommodates the slim Style Fit (thanks, Brad!), but the Jetstream RT is too thick to fit into the Park Sloper. Uni-Ball's Jetstream series pens are cheap, write smoothly, and are very highly regarded. Most importantly, Jetstream ink dries quickly; as a lefty, ink doesn't smear all over my hand when I write.
Before arriving at the Park Sloper, in the past (going back a few years—I don't buy wallets frequently and don't want to have to), I've also tried:
Watch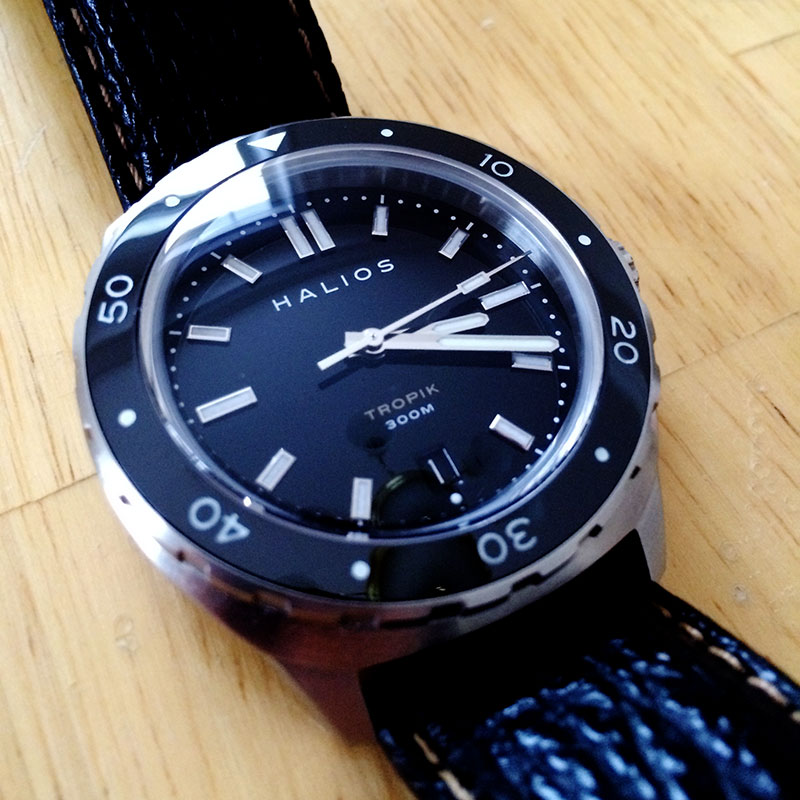 I've always loved watches. With today's ubiquitous mobile phones, many people no longer bother wearing a watch, but I can't picture myself without one. I especially love mechanical watches (as in "no electricity involved"), although they certainly don't keep time as accurately as quartz watches. I think there's something special about keeping a tiny, intricate, dependable machine on your wrist, with you always.
When it comes to the outward look and design of a watch, I'm a fan of understated simplicity. I've gone through far too many watches to list here, and wear different ones depending on my mood, but here are my current three favorites:
If you're intrigued by mechanical watches but have reservations about buying one, they don't necessarily have to break the bank—the Seiko SNK809 is a great entry-level automatic (self-winding) mechanical watch. If you want to learn more about the world of watches in general, this excellent primer from Everyday Commentary is a great place to start.
Tools, Gadgets, and Keys
Tools and gadgets encompass what is probably the largest rabbit hole as far as EDC is concerned; there are an overwhelming number of EDC-related tools—and options for carrying tools—available on the market.
Pocket Danglers/Suspension Clips
Gadgets known as "pocket danglers" or "suspension clips" are popular among EDC enthusiasts. These gadgets provide a way of attaching tools/keys/other gadgets to them, and hang from a pocket or belt loop. The idea behind them is that they "suspend" attached items in the middle of a pocket in order to prevent those items from awkwardly bunching up at the bottom of a pocket. Suspension clips and pocket danglers often double as tools themselves.
I currently use a TT PocketTTools 69 Dangler Tool, which doubles as a bottle opener and cap twist assist. Although I don't use the twist assist, it's handy to always have a bottle opener on my belt loop. I love that the dangler is designed in such a way that its use as a bottle opener isn't obstructed by the items attached to it. I've tried a few other danglers/suspension clips in the past:
My tools and gadgets are attached to the 69 dangler using a combination of common split rings and TEC Accessories 15 mm Pico Gate Clips. All of the attached tools can be easily removed from the dangler without fiddling with split rings. The tiny gate clips perfectly fit into the dangler's holes and are used to attach tools that don't provide their own detaching/quick release mechanism. All other tools are directly attached to the dangler with split rings.
Tools On the 69 Dangler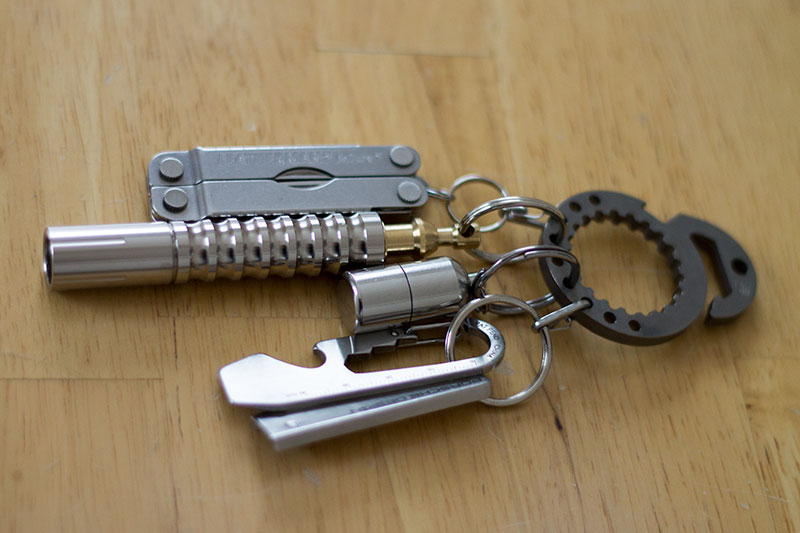 From top to bottom, these are the items attached to the 69 dangler:
Miscellaneous
There are a few other things I carry that don't need much elaboration:
…And there you have it: my EDC explained in painstaking detail. As you can see, I've put a lot of thought (and over time, a pretty penny) into my EDC, and it is constantly evolving.
Other Thoughts on Tools and Gadgets
There are several types/categories of tools I used to carry that have either been displaced by what I'm carrying now, or that I discovered I can get along just fine without. There are hundreds or even thousands of tools available on the market in each of these categories, made by both production manufacturers and smaller, custom manufacturers or individuals.
Needless to say, researching and choosing tools in these categories can easily be overwhelming.
Most of these categories have Internet communities dedicated to them, which can help with research. Although I don't participate directly in most of the communities I'm going to mention, I've discovered them through Google and other Internet EDC research.
Flashlights
I've carried flashlights for a very long time. I use them constantly, whether it's for doing something outdoors at night or for being able to see better in tight spots behind computers. For a while, I liked carrying a pocket-sized clip-on flashlight as part of my EDC, but I eventually realized clip-on flashlights generally produced more light than I needed in most situations, and therefore weren't worth the space they occupied in my pocket.
Before I added the aforementioned Prometheus Lights Beta-QR to my EDC, I carried a Veleno Designs/Steve Ku Quantum D2. The D2 is tiny, which is both a good and bad thing. Its small size makes it easy to carry, and it has great light output for its size. However, it uses an obscure type of rechargeable lithium ion battery (which needs to be recharged fairly often due to its size.) I ended up switching to the Beta-QR since it's still a manageable size and uses a standard AAA battery (NiMH rechargeable or alkaline), both of which are much more readily available and have higher capacities than the D2's battery, and therefore less likely to let me down when I need to rely on the light.
If you want to do more research on flashlights, the predominant flashlight community on the Internet is Candle Power Forums. When researching flashlights, pay close attention to the type of batteries they use. A flashlight's batteries give you a general idea of its size and runtime. Additionally, some flashlights use slightly less common types of batteries such as CR123 cells, which could either be acceptable or negative depending on your needs.
Although there are dozens of flashlight manufacturers, some popular manufacturers in no particular order are 4Sevens, Fenix, EAGTAC, and Sunwayman.
Knives
I don't carry a knife for self-defense purposes; instead I carry one simply because a knife is handy to have around. I primarily use knives for opening bubble mailer envelopes, for opening and breaking down boxes, and for cutting cable ties. In a similar vein to flashlights, I've gradually minimized my knife carry over time. (Do you see a trend here?) I used to carry a folding knife but eventually realized I generally didn't need a folding knife on my person at all times. In combination, the aforementioned Nite Ize DoohicKey and Leatherman Micra work well for 90% of my cutting tasks. I still keep folding knives around (though not as part of my EDC) for everything else.
There's a lot to learn about knives, including types of blade steels and shapes, handle ("scale") materials, locking mechanisms, and stropping and sharpening tools and techniques. As with flashlights, there are Internet knife communities such as Blade Forums and Knife Forums that can help with further research. Also as with flashlights, there are dozens of knife manufacturers. Some popular knife manufacturers, again in no particular order, include SOG Knives, Columbia River Knife and Tool (CRKT), Spyderco, Kershaw Knives, Benchmade, and Böker.
Although I no longer regularly EDC a folding knife, I still have some favorites:
Multitools
I personally categorize multitools into two distinct groups. The first group is what I would call "conventional" multitools such as Leatherman's folding tools or Victorinox Swiss Army knives. (I believe Swiss Army knives are better categorized as multitools rather than knives, but it's a matter of opinion.) The second group is what has come to be known as "one-piece multitools", or "OPMTs". OPMTs are generally milled from a single piece of metal and have no moving parts.
The predominant Internet multitool community is multitool.org.
Similar to my thinking behind carrying a knife, I think multitools are simply handy to have around. Many multitools have an integrated knife which may be fine for your needs, and could eliminate the need to carry a separate, dedicated knife, which is what happened in my case.
I've carried a few different multitools across both types, and in fact, still do: the Leatherman Micra, the Nite Ize DoohicKey, and the TT PocketTTools 69 Dangler Tool. (I would classify the DoohicKey as an OPMT even though it's not technically a single piece of metal.)
That said, I've done the least amount of experimenting in the multitool category.
For a while I carried a Victorinox Rambler which I loved as a multitool, but which ended up getting beat up by the rest of my EDC gadgets to the point that it started bothering me. I also tried carrying a larger Leatherman Sidekick, which is reasonably affordable at about $30, but it ended up being too large and cumbersome for my own EDC purposes. I still keep it in the laptop bag I take with me to work. (If you like the Sidekick, you might also want to take a look at its brother, the Leatherman Wingman.)
In terms of OPMTs, Atwood Knife and Tool is probably the biggest name in the game. Peter Atwood makes and sells his own tools in batches on his blog. They usually sell out within minutes, and are often resold with a large premium on eBay. I've been lucky enough to be able to purchase a few OPMTs directly from Peter. While his tools are extremely well made, I no longer carry them as part of my EDC because I didn't use them often enough to justify their size and weight (and no, I still have them—I haven't resold them on eBay!)
Many other individuals make and sell OPMTs, such as the aforementioned TT PockeTTools, which I understand is also a single-man operation. Various bigger companies also sell OPMTs. Leatherman has its own line, and Gerber sells the Shard Keychain Tool, which is extremely affordable at about $6.
In Conclusion…
I've given you a detailed tour of my EDC, and I've explained the thinking behind some of my past and present EDC choices. I've also pointed out some resources that you can use to do your own EDC research.
EDC as a hobby can certainly be interesting and fun in and of itself, but don't take it too seriously—lots of EDC experimentation can get expensive quickly! Take some time to think about what works for you and what could be made better, then experiment.
Ultimately, your EDC is an expression of yourself, and should augment your day-to-day life. Get out there and live it!
---
2014-02-02: Added information about the Uni-Ball Style Fit pen that was accidentally omitted.